Dedicated and more sophisticated, with ordinary and extraordinary

Persist in doing ordinary things well and achieving extraordinary results in ordinary posts.
—— Yao Xiangjiang, Chairman of Qianxi Group
"Ordinary creates greatness, and heroes come from the people. Every great achievement is based on ordinary posts and jobs; every extraordinary life depends on ordinary accumulation."
An ordinary mechanic wrote this sentence into reality.
A few days ago, Zhejiang Millennium Dragon Fiber Special Fiber Co., Ltd. Yu Zhangzi was awarded the title of "Zhejiang Golden Blue Collar", and General Manager Chen Hong personally issued a cash reward of 5,000 yuan for him. This caused quite a sensation among employees, not because of rewards, but because I didn't expect such a great person to hide around me. Those who are familiar with Yu Zhangzi are "not surprised" because he has won the "Zhejiang Mould Worker Vocational Skills Competition" for two consecutive years before that (more than 50 contestants from 11 cities in Zhejiang Province, Yongkang City) Participate) first place.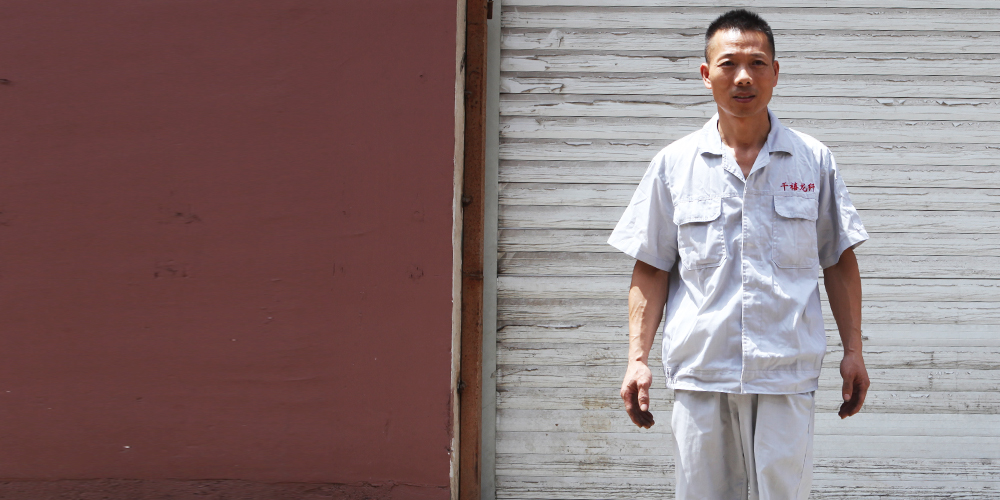 Yu Zhangzi was born in Yongkang, Zhejiang in 1972. He started working in 1990 and mainly worked in the former Yongkang Tractor Factory (a state-owned enterprise) before 2018. According to Yu Zhangzi's recollection, in the era when the skills were mainly passed on by the master's word of mouth, not everyone was qualified to learn the "fitters" at that time. To be "hardworking" but also to have "savvy", the master would be able to take a fancy to it. Go and learn, and Yu Zhangzi is one of them. Since then, the "fitter" has become the post he has been fighting for all his life.
Regarding why he chose to work in Qianxi, Yu Zhangzi said that in Qianxi, the care of the leaders gave him more room to play, and he could fully display his skills. Of course, he did not live up to this trust. In just four years, he has grown from a mechanic to a provincial-level skilled talent (National Vocational Qualification Mechanic Fitter Level 2).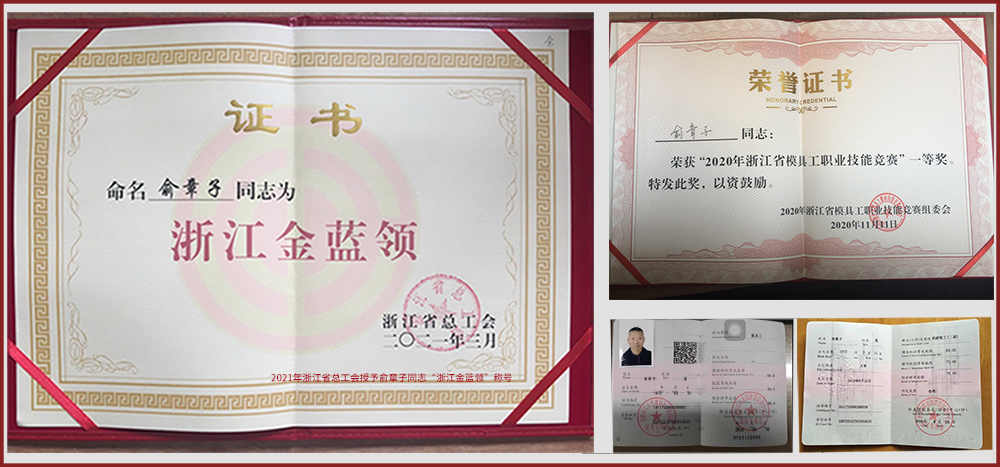 ▲Part of the certificate and medals obtained by Comrade Yu Zhangzi (Note: There are five levels of fitter, namely: Elementary (National Vocational Qualification Level 5), Intermediate (National Vocational Qualification Level 4), Advanced (National Vocational Qualification Level 3), Technician (National Vocational Qualification Level 2), Senior Technician (National Vocational Qualification Level 1))
In the current impetuous society, some young employees still have the concept of focusing on civilian jobs and light technical workers. However, in fact, there is still a shortage of skilled talents in China, and the more senior they are, the more scarce they are. Yu Zhangzi has undoubtedly set a good example for the majority of young workers. He has always maintained a sense of awe for his profession. The cold, silent big iron in our eyes is a kind partner in Yu Zhangzi's eyes. He said that the machine is great, and the machine can do things that humans can't do. Whenever he talked about work, he always talked endlessly, the brilliance in his eyes was particularly dazzling. In his view, equipment is like people. If they are uncomfortable, they cannot work well, which will cause product quality problems and affect work efficiency. Equipment maintenance is like seeing a patient. You must also know how to "see, smell and ask" to see if there are any abnormalities on the surface and surroundings, whether there are abnormal noises, and whether the temperature and vibration are normal by touch. Experience cannot make an accurate judgment on this.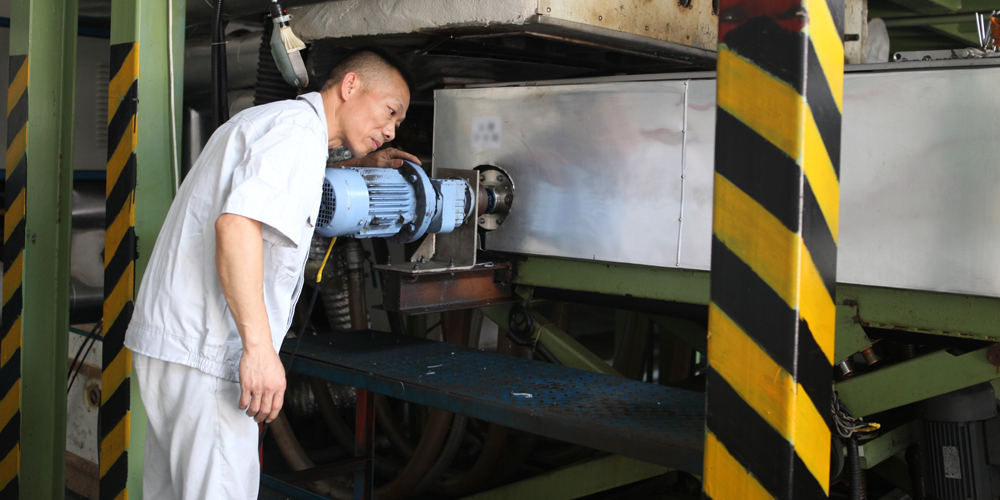 ▲Yu Zhangzi is undergoing maintenance work
It is not only equipment maintenance and repair, Yu Zhangzi is also good at parts processing. The skill assessment item of this "Zhejiang Golden Blue Collar" competition is parts processing. In Yu Zhangzi's workshop, various auxiliary tools designed and processed by him are placed. Colleagues said, "He really likes these things. In his free time, I can always see him busy here, writing and painting, beating, and his many "inventions" are also It came in handy, and it really improved the efficiency of the production line."
▲Yu Zhangzi's daily work
In the eyes of my colleagues, Yu Zhangzi is not only an "inventor" with superb skills, but also an old man who is eager to help others. Everyone kindly calls him "Lao Yu". "Looking for Lao Yu" is always correct for equipment problems in the workshop. He always patiently explained to his colleagues, demonstrated the operation himself, over and over again, never being impatient. He said that he is very happy to be able to teach others useful knowledge, and he can also improve himself. In the past four years, Lao Yu has never let go of any opportunity to improve and exercise. He has carefully studied the operating skills of the positions of each workshop. He is always indispensable for the company's related transformation and reconstruction projects. When encountering difficulties, he is always indispensable. They are the first to not be afraid of hardships, take the initiative to ask questions, and never give up unless the problem is solved.
From Yu Zhangzi, we can see the craftsman's focus and perseverance. In Yu Zhangzi's life creed, "dedication" is always the first. He said: "There are no shortcuts to work, only dedication. It is not good to do anything without dedication." He always emphasizes to newcomers that they need to go to the scene more. Exquisite skills are never just a matter of fact. There is only one good working method, that is: practice, practice, and practice again.
Only those who work hard are extraordinary, but those who work hard are brilliant. Yu Zhangzi never advertised himself as a "capable man", and was never satisfied with his current achievements. When asked, are you happy to win the prize? He smiled shyly: "Naturally, I am happy, which means that my efforts and skills have been affirmed and recognized. But I can't be satisfied with this. There is no end to improvement. There are new things to learn every day. We The country's science and technology are also constantly improving. Later companies will introduce new equipment and update new technologies. I can't stop. I will continue to improve in the future and strive to increase the production capacity of our production lines."
"Don't seek short-term skills, be uneasy." Yu Zhangzi steadfastly tells us step by step, using his own practice, no one is born good, and all good is the result of self-spurring. Looking across the country, there are many skilled workers like Yu Zhangzi, and he is just an ordinary person, but his dedication, focus, and constant search spirit is absolutely extraordinary. "Stars don't ask for passers-by, time is worthy of struggle." Let us learn from Yu Zhangzi as an example!